For Shipping Container Desiccants, very large quantities of silica gel (and even more activated clay desiccant) would be needed to protect a shipping container and its contents from high humidity (container rain).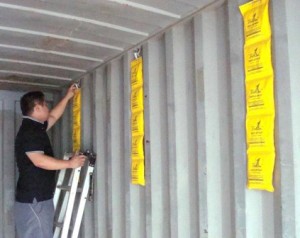 Calcium Chloride adsorbs 10 times more than silica gel and has been used as a desiccant in shipping containers for many years – BUT it has one big disadvantage:
Calcium chloride converts to liquid brine when it adsorbs moisture.  If a pack is damaged and then leaks it can cause serious damage to the goods it is supposed to protect.
Dry Dragon uses NEW technology.  There can be NO leakage because it BECOMES SOLID AS IT ADSORBS MOISTURE.  (This is a feature of the special polymer used in it's compilation).
6 Strips (1 carton) will protect a 20ft container for 6 weeks
12 strips (2 cartons) will protect a 40ft container for six weeks
This Super Desiccant is also available in 125g and 50g individual sachets.
R-Tech are the sole UK Distributor for silica gel products such as silica gel sachets, silica gel on reels and export desiccants.
ADSORPTION CAPACITY W/W  OF DRI-STRIP 1000
AT DIFFERENT RELATIVE HUMIDITY
| | | | | | | | | |
| --- | --- | --- | --- | --- | --- | --- | --- | --- |
| RH% | 0.2 | 0.3 | 0.4 | 0.5 | 0.6 | 0.7 | 0.8 | 0.9 |
| Adsorption | > 25% | > 50% | > 70% | > 90% | > 120% | > 160% | > 200% | > 250% |